The Clear Water Shop will customize trusted and non-chemical solutions for water problems like hardness minerals, iron, bacteria, tannins, and sulfur which are common in this area. If your water supply is a drilled well, sand point, dug well or lake or river, we have a solution to fit your family's needs ensuring your water is safe, clean and great tasting.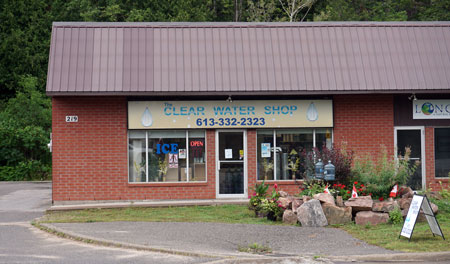 Our retail store carries a wide range of replacement filters, U/V systems, back washing filters and softeners. The Clear Water Shop also features a large selection of water coolers, pumps and dispensers.
Our reverse osmosis water is produced fresh on site and monitored and tested daily. Now that is fresh! It is our guarantee to you that we offer unsurpassed quality. Retail pick has never been easier! Bottles are simply exchanged and we are happy to carry it out for you as well!
We also offer Premium reverse osmosis water for in store pickup and delivery. We have many distributors for our bottled water throughout this wonderful cottage area.
Check them out under the Distributors section.
Call us today for your FREE water analysis and let us show you how we can make your water clearly better! 613-332-2323